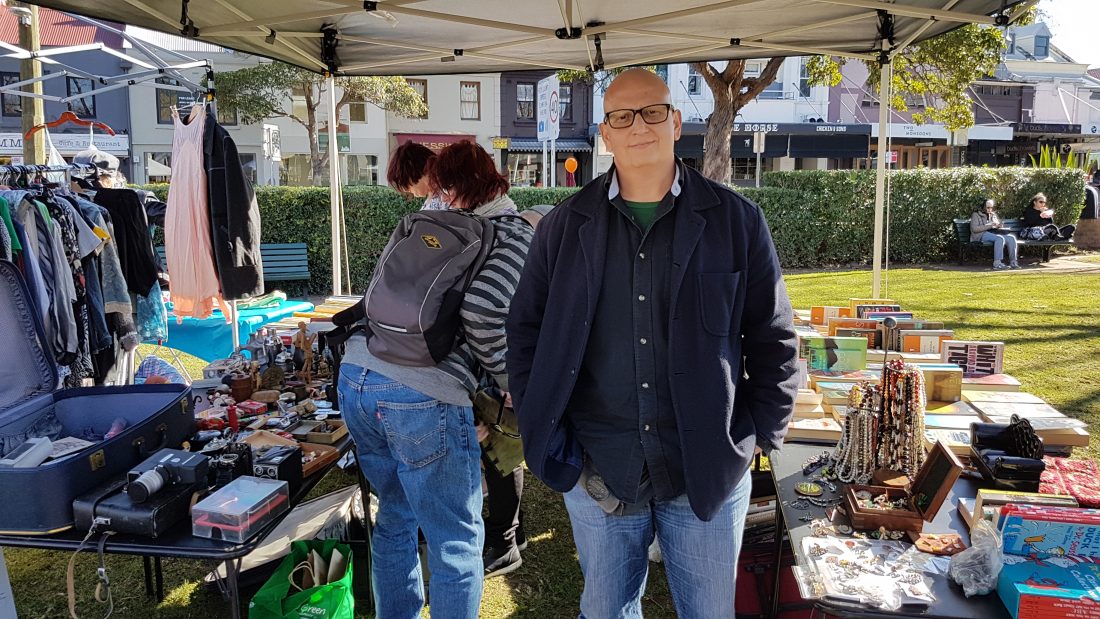 Stall Holder – Joe Alizzi
This month we are featuring market stall holder Joe Alizzi. In Joe's own words "classic books and vinyl records can transport you into another world".
Something we could all embrace right now. We'll keep you posted as to when we can safely operate our wonderful Surry Hills Market which by its very nature can also transport us to a world of creative wonder and delightful treasures .
We hope to see you soon.
Surry Hills Market Team
Alice, Alli and Gillian.
Joe Alizzi has been a feature at the Surry Hill Markets for the last decade – we caught up with him about some of best, and worst, find in his collecting career:
What do you sell, Joe?
Joe: Quality and classic books, vinyl and anything old and interesting. If I'm getting poetic I'd say things that transport you to another world.
How do you choose what to add to your stall?
J: Well, it's a skill you develop actually. I like to read a lot so I know what's a good read, but it's also understanding what people are reading.
How do you find things?
J: Anything from garage sales to hard rubbish – you just have to be resourceful and keep an eye out.
Could you share some memorable stories form collecting?
J: I was buying some vinyl records, and a bought a collection of The Beatles. I took it home and was going through the process of cleaning it up when I found one with writing. At first I was cursing that someone had scribbled on this but then I thought 'Does that say George Harrison?' I googled it and it looked like his signature so I sent photos to Beatles dealers in the UK and US and ended up selling it for $16,000.
Sometimes you buy record and they're damaged – you don't realise til you get them home. I bought a Roy Orbison record once and when I got it home found out it was all scratched and useless. So I thought I'd just use the cover for cardboard – I do a lot of postage so I needed the cardboard. And I was halfway through cutting it up when I turned it over and realized I'd just cut through Roy's signature. You've got to laugh t those ones – if you don't laugh you cry.
What keeps you coming back all these years?
I've got to know people over the years, that's a big part of it. And it's a great way to earn a bit of extra cash. But mostly – when you're a bit of a bower bird, or when you're someone doesn't like waste, who understands the value of things, you end up getting a lot of things.
And this is your way to make sure they go to an appreciative home, rather than to waste?
J: I like letting people discover something – my stall is about memories, everything means something, it's about finding something lost, you're looking for something unique. I like giving people that.